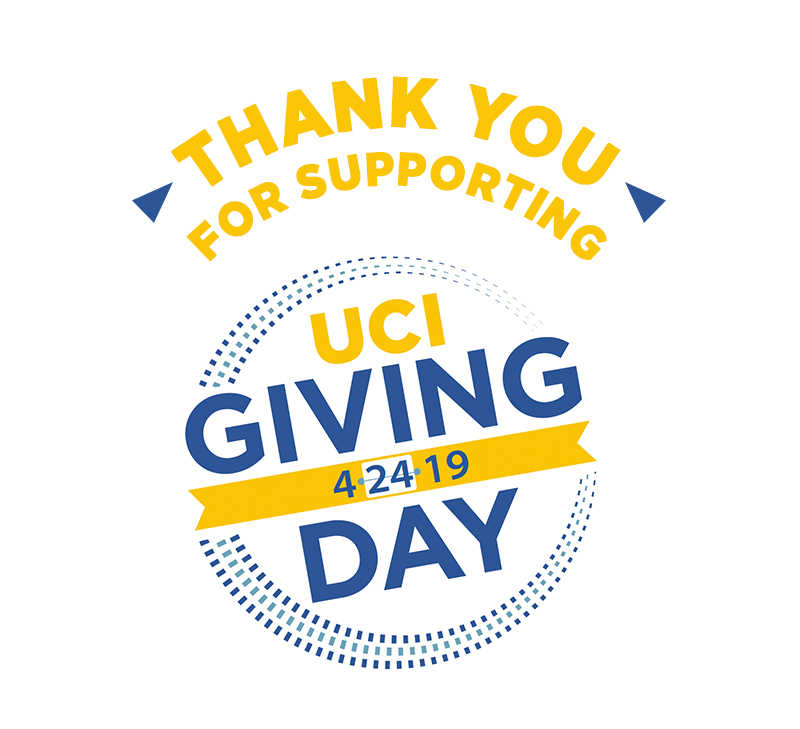 Thank you to all our supporters who contributed to the UCI Libraries' third successful Giving Day on April 24, 2019!  With your support, the Libraries raised funds to enhance library spaces and support the Libraries' Special Collections and Archives.
Beginning in spring 2017, Giving Day is an annual campus-wide 24-hour online giving campaign designed to bring the UCI community together to celebrate the Anteater Spirit.  In 2017, the UCI Libraries raised $4,230 from 35 gifts, and in 2018, raised $23,315 from 49 gifts.
The funds raised from this year's Giving Day campaign will foster additional innovative and productive study spaces and technology within the Libraries to promote teamwork and inspiration. It will also support the processing of our special collections and archival materials. These collections are invaluable resources for academic research, and capture and preserve the diverse histories of the campus and Orange County community.
Last year's Giving Day funds were used to support two key goals. First, to introduce several innovative enhancements to library study spaces.  Three bicycle workstations were installed in the Science Library to promote both student wellness and academic study.  Additionally, a new Collaboration Room on the 1st floor of the Langson Library will include a variety of reconfigurable seating, whiteboards, and other tools to facilitate collaboration and creativity.  
During Giving Day 2018, funds were also raised for UCI Libraries' Southeast Asian Archive (SEAA), which documents the experiences of refugees and immigrants from Cambodia, Laos, and Vietnam who resettled in the United States after the end of the Vietnam War.  The Southeast Asian Archive recently celebrated the 30th Anniversary of its founding.  Giving Day funds will support the processing of donated records from the Cambodian Family, a Cambodian-American organization based in Santa Ana, CA.   The organization will celebrate its 40 year history in 2020, and Giving Day donations will allow us to fund a student internship, working under the guidance of the Libraries' Dr. Thuy Vo Dang, to organize and digitize these materials for use in the celebration and in the Libraries' Special Collections and Archives.
Thanks to all of our supporters and friends that contributed to these successes!
For more information on Giving Day, please contact Wendi Morner at wmorner@uci.edu.