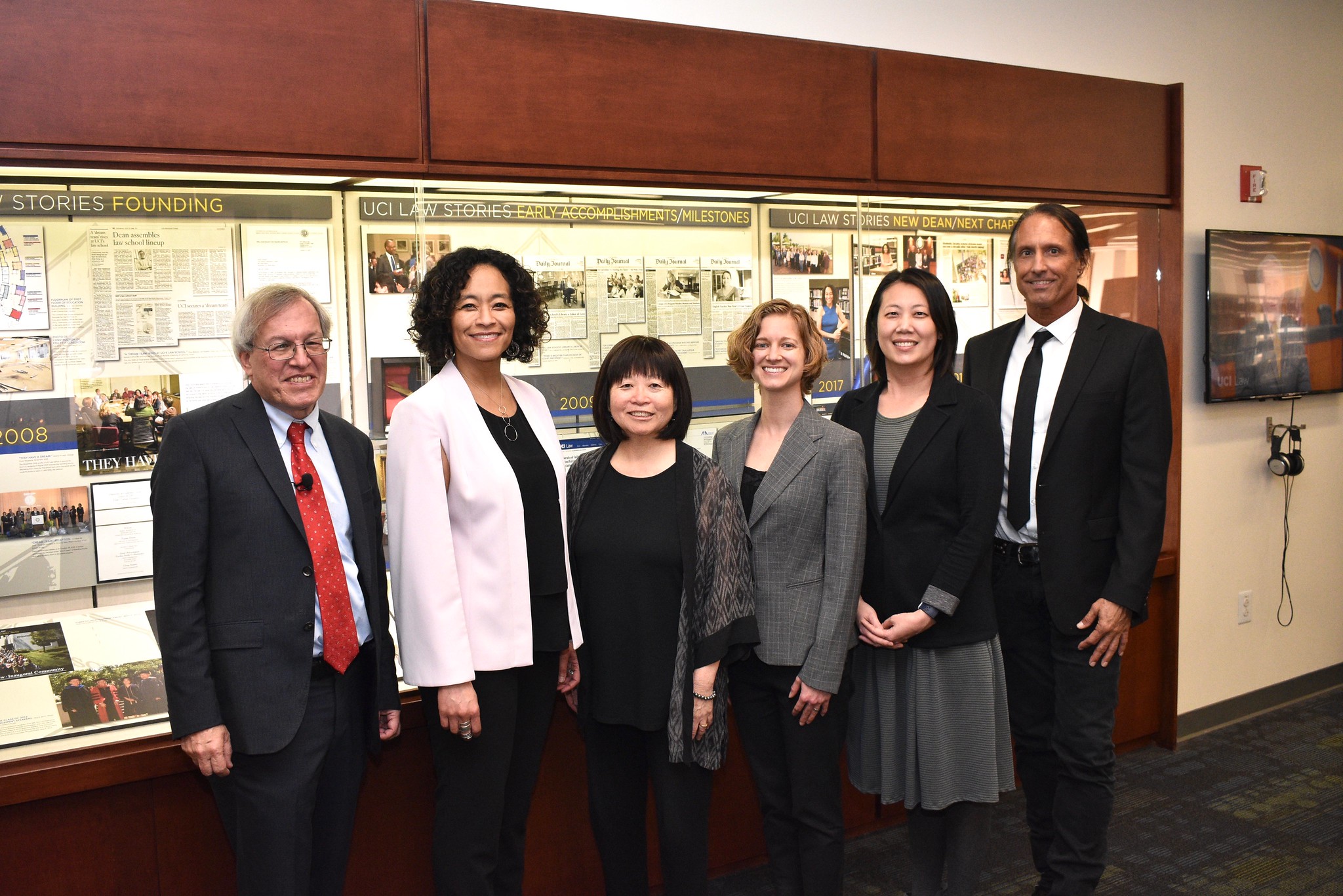 The spring library exhibit – "UCI Law Stories: Past, Present and Future" – which opened March 25 at the Jack Langson Library, is a collaboration between UCI Libraries and UCI Law. The exhibit will be available for viewing through early fall 2019 in the Muriel Ansley Reynolds Gallery, located in the Langson Library lobby. Please come visit and check it out!
This exhibit celebrates the 10-year anniversary of the UCI School of Law. It includes select writings and memorabilia showcasing UCI Law's origins, the school's founding vision and its pioneering and entrepreneurial community partners, faculty, staff, students and alumni.  Highlights from UCI Libraries' newest collection– founding Dean Erwin Chemerinsky's personal and professional records – are presented in the exhibit as well. An extensive video archive, produced by UCI Law, accompanies the exhibit and includes approximately 50 long-form interviews from UCI Law leaders and friends.
At the opening event in the Holden Room, University Librarian Lorelei Tanji thanked the UCI Law and UCI Libraries teams for their collaborative efforts in creating the exhibit and introduced the two esteemed presenters, Erwin Chemerinsky, the dean and distinguished professor of law for Berkeley Law and founding dean of UCI Law, and L. Song Richardson, dean and Chancellor's Professor of law for UCI Law. 
During her comments, Tanji described the UCI Libraries acquisition of Chemerinsky's papers in this way, "Erwin  – I want to publicly thank you for donating your papers to the libraries. As the founding dean and a renowned constitutional law expert, scholar and educator, your collection is one of the most important legal archives in the nation and will benefit students and scholars for years to come."
Chemerinsky began his talk by describing the excitement and challenges of building a high ranking, innovative public law school from its establishment. He described the recruitment of the so-called "dream team" of inaugural faculty and reflected on UCI Law's inaugural class of 60 law students, who arrived on campus in 2009. Chemerinsky recalled how each student was awarded a full scholarship, which instilled a unique sense of community and investment in the program.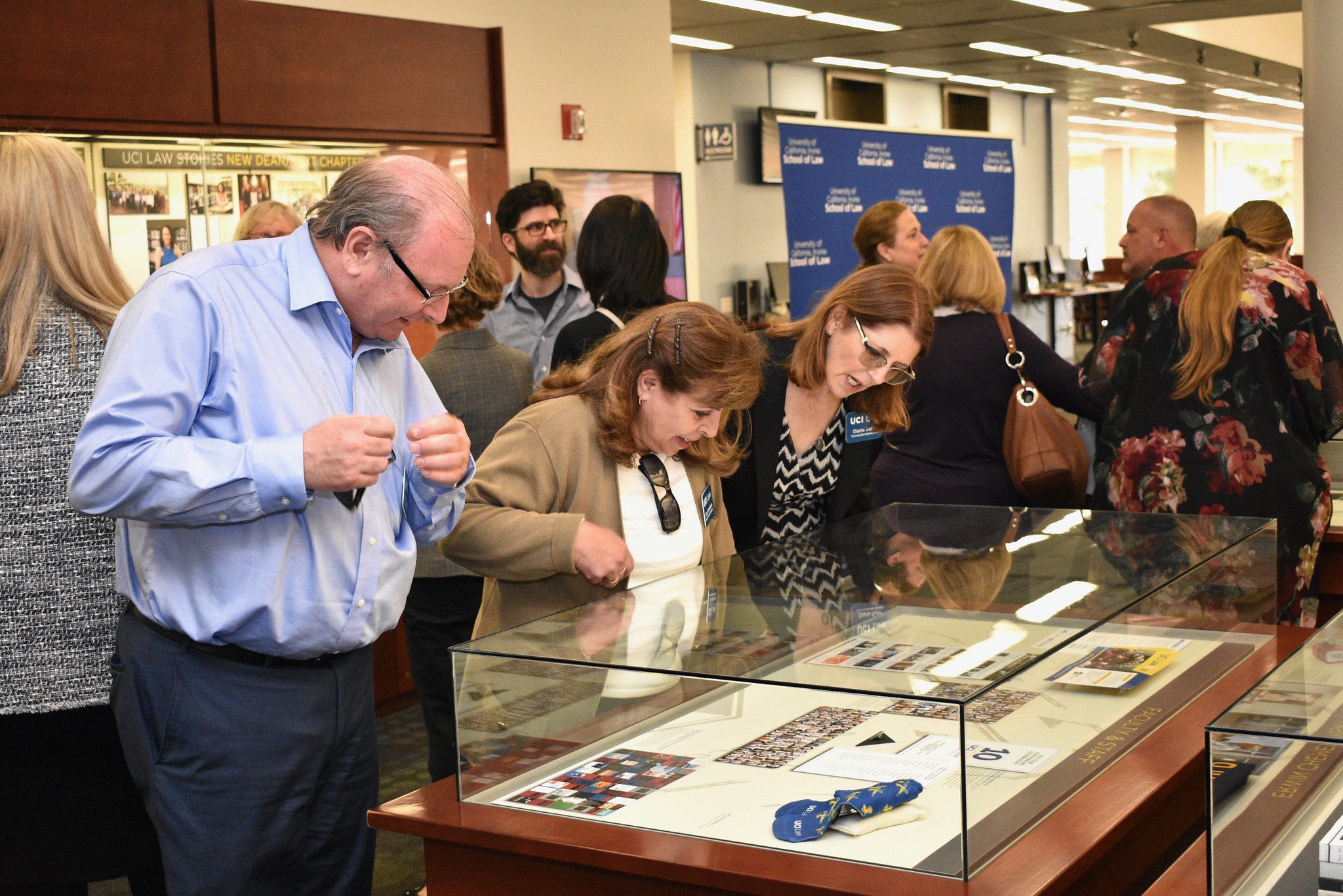 UCI Law has achieved many of its goals, including full accreditation. In addition, the school enjoys the highest debut ranking by a new law school in U.S. News & World Report's history. Ten years later, Chemerinsky remarked that UCI Law's tremendous success was inevitable. "If I were asked to say who I thought did the most to make a law school at UCI a reality, I would say it was Michael Gottfredson, the executive vice chancellor and provost at UCI from 2000-2012, and Michael Drake the UCI Chancellor from 2005-2014."
"Being founding dean of UCI Law," Chemerinsky concluded, "has been the most amazing and rewarding aspect of my career."
Richardson began by sharing her dream of joining UCI Law: "The more that I learned about UCI Law, its unique approach to legal education, the way they were thinking about challenging existing norms within legal education, I knew this was the school that I wanted to join." 
When Chemerinsky ultimately offered her a faculty appointment, Richardson joked she was so eager to accept the offer that she may have forgotten some of her job negotiation skills. Only a few years later, Chemerinsky announced he would leave UCI Law, and Richardson was invited to serve as interim dean. She served as interim dean from July 2017 to December 2017 before becoming permanent dean in January 2018. In her UCI Law video archive interview, Richardson noted, "The role of the dean is not about me. The role of the dean is about empowering the people around me, all of the people who make this institution the special, unique place that it is."
The UCI Law Stories exhibit is curated by Christina Tsou, research law librarian for faculty services; Jessica Pierucci (Law '13), research law librarian for foreign, comparative and international law; and Brian Richard Williams, research librarian for criminology, law & society. It is designed by Jennifer Betonio, Allan Helmick and Sylvia Irving.
The UCI Law video archive is produced by Ryne Hodkowski, former public relations manager for UCI Law; Anna Iliff, digital content specialist for UCI Law; and Colleen Taricani, assistant dean for communications for UCI Law. Click here to view UCI Law's anniversary webpage.
The UCI Libraries Exhibits Program promotes the diverse holdings and scholarly and cultural value of the Libraries' collections to the campus and community.
To support the Libraries' Collection Enhancement Fund, please go to: http://www.uadv.uci.edu/CollectionEnhancementFund.
To learn more about the UCI Law Stories exhibit and other UCI Libraries events, please contact Wendi Morner, director of development, at wmorner@uci.edu, or call 949-824-8904.