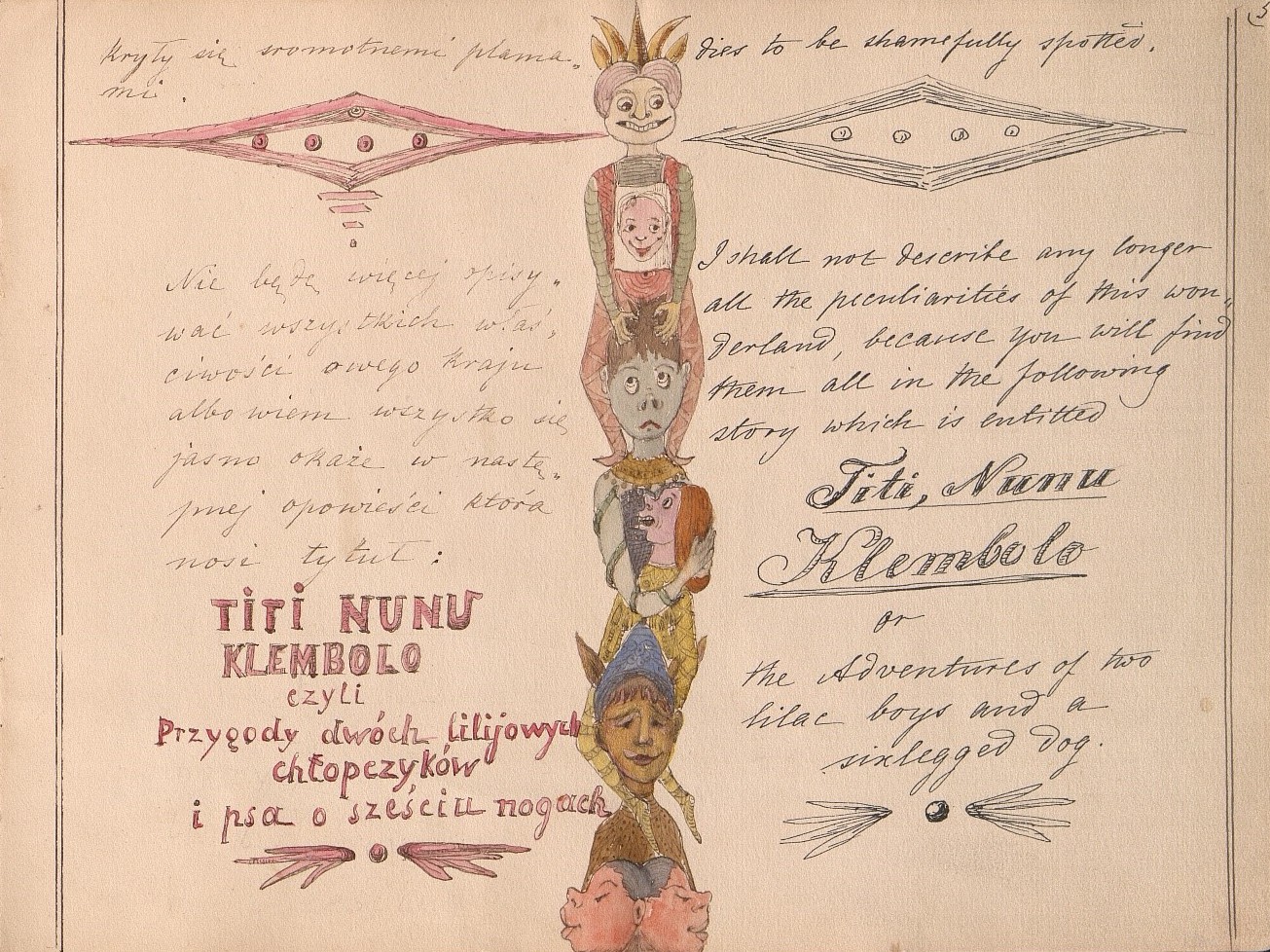 Helena Modjeska's handwritten and illustrated book of fairy tales, "Titi, Nunu i Klembolo czyli Przygody dwóch liliowych chłopczyków i psa o sześciu nogach" (in English: "Titi, Nunu, Klembolo or the adventures of two lilac boys and a six legged dog") was on loan from the UCI Libraries with selected pages on display in the Laguna Art Museum's exhibit "Titi, Nunu, and Klembolo: Helena Modjeska's Fairy Tale Book"  (March 3-May 27, 2019).
Helena Modjeska (1840-1909) was a Shakespearean actress, artist, and storyteller born in Poland, who spent much of her later life in Orange County, in what is now known as the Modjeska Canyon. Mrs. Wladyslaw T. (Romola) Benda, wife of Helena Modjeska's nephew, donated the book to the City Museum of New York. Because of our extensive collections on Helena Modjeska, the City Museum of New York generously donated it to the UCI Libraries in 2017, where it is now included as part of the Helena Modjeska collection in UCI Special Collections and Archives' Orange County regional history collection.
The bound, 147-page manuscript measures 7-3/4" x 1-1/8" x 10-3/4". It is illustrated with watercolor and ink, and each story is written in both Polish and English. The narrative recounts the childhood adventures of fictional characters in an imaginary land—two children with their six-legged blue dog who live on Mars.
Due to its fragile condition, the manuscript book was sent to the UCLA Library Conservation Center for treatment, rebinding, and digital preservation.  Laguna Art Museum Director Malcolm Warner heard about our new acquisition and asked if he could display it prior to rebinding.  After consultation with the conservation center, we agreed.   The exhibit captured the imagination of many community members and was featured in the OC Weekly and the Laguna Beach Independent. 
The digital images were then uploaded into Calisphere, the system-wide UC Libraries' hub for access to digital collections, along with comments by UCI archivists Elvia Arroyo-Ramirez and Jolene Beiser. We want to thank Adrian Turner and the California Digital Library team for turning around the digital project in time to coincide with the opening at the Laguna Art Museum.  Now researchers from around the world can freely view and enjoy the Modjeska illustrated book from their computers and other devices.
For more information on the Modjeska collection, contact Jolene Beiser at jbeiser@uci.edu.