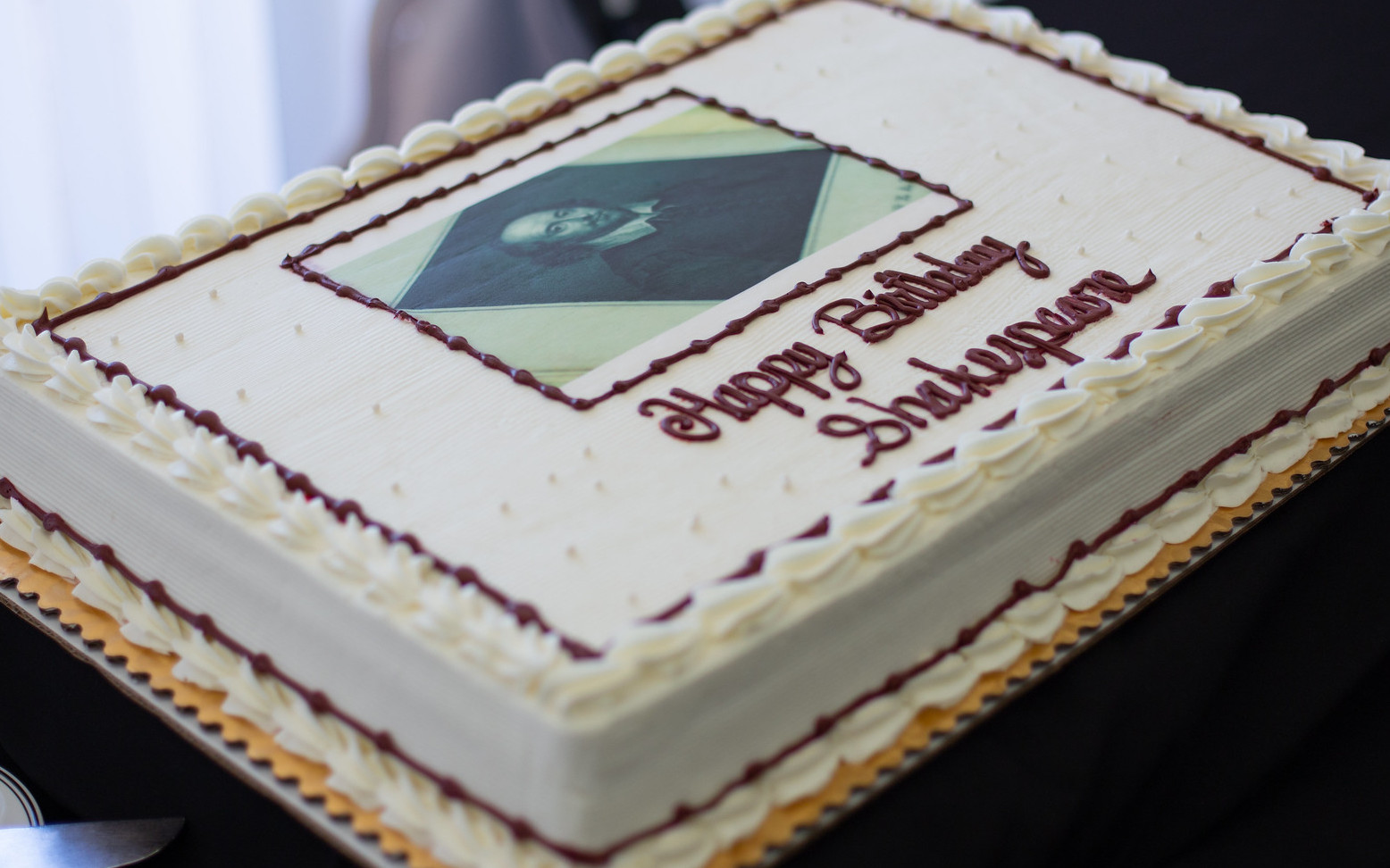 On Tuesday, April 23, 2019, the UCI Libraries collaborated with the UCI Shakespeare Center to celebrate William Shakespeare's birthday. Held at Langson Library, Shakespeare's Birthday Celebration event highlighted the contributions the Bard has made to the literature and theatre communities, focusing on a legacy which lives on at UCI. His plays and poems, written almost half a millennium ago, continue to captivate and entertain us with deep insights into human nature. The event was marked with poetry, acting demonstrations, fight demonstrations, a poetry contest, and lest we forget, cake.
The event opened in Langson Library's Holden Room, where Julia Lupton, Associate Dean for Research for the School of Humanities and Co-Founder of the UCI Shakespeare Center, hosted an entertaining assortment of speakers. First, Eli Simon, Chancellor's Professor in Drama and Artistic Director of New Swan Shakespeare Festival, introduced the 2019 New Swan Shakespeare Festival season. This year's New Swan experience will be highlighted by performances of The Merchant of Venice and The Two Gentlemen of Verona. Following the New Swan presentation, Thomas Varga, a veteran New Swan actor, briefly reprised his past role as Puck. Then Michael Polak gave a short, period-specific fight demonstration. In closing Jason Freddy serenaded the audience with his song Nobody's Fool and led the audience through a festive rendition of Happy Birthday.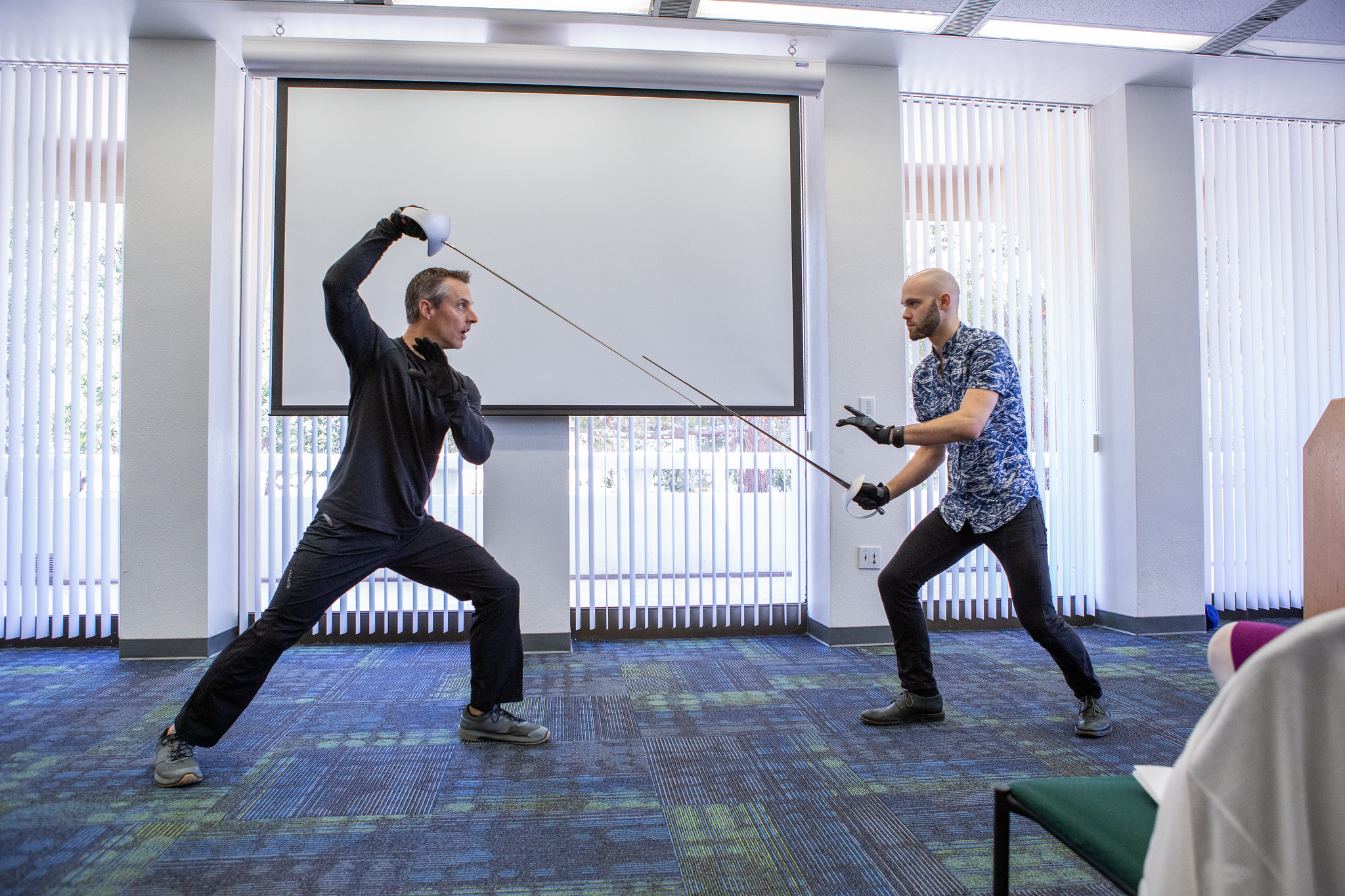 Leading up to the Shakespeare's Birthday Celebration event, the Libraries and Shakespeare Center hosted a Shakespearean Sonnet Contest, open to all students at UCI. The sonnet contest winner presented their poem to event attendants, and was awarded a gift card to celebrate their win. We want to extend thanks to contest Judges Julia Lupton, Co-Director of the UCI Shakespeare Center; Samantha Hilton, Instruction and Public Services Library Assistant; and Maya Lyubomirsky, a student representative and instructor of the UTeach Shakespearean sonnet course.
Following the formal presentations, many attendees participated in activities to honor Shakespeare, this included button-making and coloring illustrations of various Shakespeare plays. Attendants also had the opportunity to view UCI's First Folio. Derek Quezada, Outreach and Public Services Librarian, curated a Special Collections and Archives display highlighting the First Folio, and the University's collection of rare books that are believed to have inspired Shakespeare's writings.
The Shakespeare Birthday Celebration event brought excitement to the UCI community by celebrating the lasting impact of his work and the continued study of his writings.
For more information on UCI Libraries First Folio, please contact Derek Quezada at quezadad@uci.edu. For more information regarding special events, please contact Carlin Motley at cmotley@uci.edu.